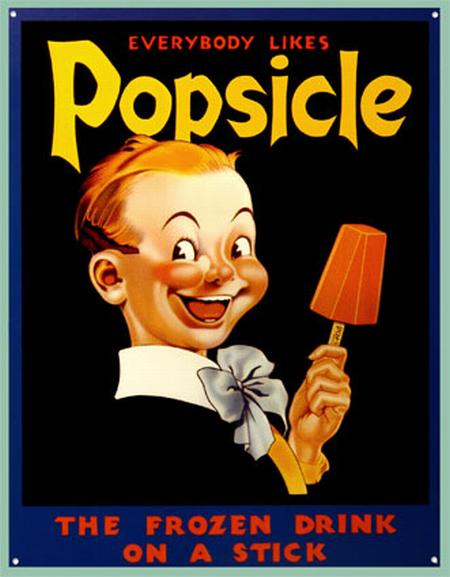 During the past couple of years, artisan ice pops, what you and I know generically as popsicles, have outpaced those hipster favorites, cupcakes, in the race to be America's most popular nostalgia dessert. Like cupcakes, popsicles are portion controlled, which limits over-consumption by those watching their waistlines. Unlike cupcakes, today's ice pops are a healthy sweet, usually made from organic fruit picked at the height of the season. No wonder trendy ice-pop shops and paleterias (paleta is ice pop in Spanish) have popped up all over the country, from the Chelsea Market in Manhattan to the streets of Nashville, Tennessee.
"I'd definitely draw the line at a turkey-leg popsicle."
Other than their temperature, these fancy new lower-case popsicles have little in common with the upper-case trademarked treats that preceded them. "The Popsicles we had when we were kids were just frozen water and artificial flavors," says pastry chef, cookbook author, and all-around dessert expert Emily Luchetti, "but now popsicles are seen as a low-calorie, delicious dessert made with fresh fruit and good quality ingredients."
Rebecca Rouas, who runs SF Pops and sells her chocolate avocado, tangerine beet, and grapefruit cinnamon clove ice pops at farmer's markets north of San Francisco, also grew up on upper-case Popsicles. "I'm sure my first popsicles were made by Popsicle," she says. "My favorite flavor would've been cherry, but I also liked the artificially flavored grape and orange."
Ironically, the very first Popsicles may have had more in common with the contemporary versions of the treat than we might think. According to the official Popsicle website, Popsicles were the accidental invention of an 11-year-old boy named Frank Epperson, who, in 1905, "left a mixture of powdered soda, water, and a stirring stick in a cup on his porch. It was a cold night, and Epperson awoke the next morning to find a frozen pop."
For many years, the corroborating detail in this gauzy creation myth was the "fact" that young Frank was living in San Francisco at the time. Indeed, this crucial bit of evidence even made it into Epperson's 1983 obituary in The New York Times. Problem was, weather records show that it never got that cold in San Francisco in 1905, leaving some to speculate that the birthplace of the Popsicle must really have been Oakland, where the adult Epperson patented his novelty in 1923 (the first flavor is thought to have been cherry, but the data are sketchy on this). Significantly, in 1905, Oakland temperatures did dip below freezing, but only three times.
Within two years, Epperson had unloaded his stake in Popsicle to the Joe Lowe Corporation, which immediately began suing competitors such as Kold Kake Company of New Jersey, M-B Ise Kream Company of Texas, and Good Humor of Ohio, for patent infringement. Ultimately, Popsicle and Good Humor (which are now both owned by Unilever) came to a wary truce, in which Popsicle would only make frozen desserts from water and Good Humor would own the ice-cream market. Popsicle, however, wanted to diversify, which led to the development of an ice milk (not cream) product in chocolate or butterscotch called the Fudgicle, later renamed the Fudgesicle.
Two-stick Popsicles were introduced during the Depression, when the company was looking for ways to make its products more affordable to consumers, who had little money to spend on frivolous frozen confections unless they were a really good deal. Eating a regular Popsicle had always been a drippy, sticky undertaking, but these two-sticked pops posed a new quandary: Should you break 'em in half and share with a friend or sibling, or figure out how to eat the melting mess before it fell apart into your hands?
"A booze pop is a great idea."
"I had a sister very close in age," says Rouas, "but I never broke my pop in half. I definitely ate both pieces. It's a very awkward shape. Everybody just seemed to gag themselves with the stick as the pop got shorter and shorter. We didn't understand that we could eat it as far down as we could, get rid of one of the sticks, and then start going at it from the side." Luchetti was more of a purest. "I ate the whole Popsicle, with two sticks," she says proudly. "I kept it even on both sides."
Other players in the contemporary artisan ice-pop scene are unburdened by such memories. "Being from Italy, born and raised, I had my first pops on the Italian Riviera beach during summer vacations," says Reuben BenJehuda, who runs Popbar in New York. "Since moving to the United States, my tactic has been to start from the top and when I get about halfway down, split it in two to get to the bottom." Fany Gerson, owner of La Newyorkina, also doesn't know from two-stick Popsicles. "I grew up in Mexico," she says simply, "and we didn't have those kinds of paletas."
Of course it's the range of ingredients and flavors, rather than the number of sticks, that sets contemporary ice pops apart from their mass-produced forebears. Ingredients such as cardamom, jicama, and saffron are not unheard-of in artisan pops, although familiar fruits such as strawberries, peaches, and raspberries are just as typical. Sometimes the familiar is paired with the unexpected, as in a mango-chile ice pop, which is the best-selling paleta at La Newyorkina.
Like a lot of her contemporaries, Rouas also uses some ingredients for the textures they produce and the associations they conjure. "Don't be turned away by an avocado pop," she counsels those who might hesitate at the prospect of a chocolate-avocado ice pop. "The avocado is for texture not taste. Think chocolate pudding, not guacamole. And vanilla is a wonderful ingredient for imparting an ice-cream-like flavor, as if there's ice cream in the pop, even when there's not."
Still, not every flavor lends itself to an ice pop. For example, you wouldn't want to make, let alone eat, sushi ice pops, would you?
"Do they make those?" asks Luchetti, taken aback. "That's disgusting." How far is too far for her? "I'd definitely draw the line at a turkey-leg popsicle," she decides. Rouas has her own line in the sand. "I love pickles," she confesses. "I'll eat pickles with almost everything, but a pickle pop? I won't go there." Gerson, on the other hand, is not ready to rule that out. "I've heard that pickle-juice ice pops are popular in Texas, but I haven't done them. I would never do an anchovy popsicle, though, or anything with bell peppers."
One of the hottest trends in ice pops is something little Frank Epperson never could have imagined, the alcohol pop. Rouas is enthusiastically in favor of such products. She's experimented with a few recipes at home, but as someone who's trying to make a living on ice pops, she's a bit skeptical about building a business around them. "A booze pop is a great idea," she says, "but it's hard to get the liquor to freeze. Usually I just take my fruit popsicles, cut them up into cubes, put them in a glass, and then top with the alcohol of my choice. For example, I'll cut up a Meyer lemon pop and flood it with tequila. It makes a really good margarita."
Or, as Luchetti puts it: "Who's going to say 'no' to a mojito popsicle?"
Strawberry Orange Popsicles, by Emily Luchetti
What's the best thing about ice pops, other than eating them? Well, they're super easy to make, as this recipe, courtesy of Emily Luchetti, proves. This recipe makes 8 ice pops, each 1/3 cup.
Ingredients
2 pints strawberries
1/2 cup orange juice
1/2 cup plus 2 tablespoons water
3/4 cup granulated sugar
Large pinch kosher salt
Hull the strawberries. Cut them in half and puree in a food processor. Strain the puree through a
medium sieve into a medium bowl, discarding the seeds. Add the orange juice, water, sugar, and
salt. Whisk until the sugar is dissolved. Measure the puree and add more water as necessary to
make 3 1/3 cups of puree. Stir until blended.
Pour the puree into molds. Insert sticks and freeze until frozen, about 6 hours.
(Images: Manolo for the Big Girl, Popbar, Hake's, National Archives, People's Pops)